Services
Topco, Inc. is the leading barrel rack manufacturing company in the wine industry. Our new focus on recycling your old rusted racks is what brings us to the top.
We provide 3 basic products/services:
NEW WINE BARREL RACKS
Topco, Inc. manufactures new wine barrel racks using carbon steel. A stainless steel option is also available. You may choose from our standard specifications or make a special request. All racks are made with attention to details, such as quality of welds and powder coat application.
New wine barrel racks may be completed in a variety of standard (in stock) powder coat colors. Special colors may be ordered, however, delivery time of your wine barrel racks may be delayed due to the individual request.
Ordering new wine barrel racks allows for the option to choose which saddle type your barrels will be resting on. We recommend using the Topchock© to avoid early rust retardation around the inner welds. To learn more about saddle types, please click here.
REMANUFACTURE
Convert WR2 (2 Barrel Rack) to WR4 (4 Barrel Rack)
As part of our recycling program we can convert your old two barrel racks to four barrel racks. These wine barrel racks are made at a lower cost than those of completely new ones and of equal quality. You will not be able to identify the difference. Just ship your old racks to us and we will take care of the rest.
Convert 1 Bar to 2 Bars
It has been discovered that double bar racks are stronger than single bar racks. By converting your wine barrel racks, you will increase the quality and safety of your wine cellar. This option allows you to save money and keeps you from building a "bone-yard." Call us to learn what we can do for you.
REFURBISHED RACKS & PROCESS
BACKGROUND
When Topco Inc. began producing barrel racks for wineries in 1997, it was evident that these racks had a limited service life, primarily due to rust degradation. Although they were finished with high-quality powder coat, intrusions caused by denting or abrasion allowed metal exposure to the generally corrosive winery environment. Typically, after five to seven years of service, many racks are unfit for continued service. In addition, it was known that many wineries had extensive "bone yards" of damaged or obsolete racks which were rusting to perfection. Since then, Topco Inc. has searched for a solution. And now we are pleased to announce that one has been found.
THE RECYCLING PROGRAM
Although efficient stripping is the key to recycling wine barrel racks, an effective recycling program is important too. Topco Inc. offers four basic services: Refurbishment, Repair, Re-manufacturing and Removal.
1. Refurbishment
At customer's order, racks to be refurbished are collected and delivered to us at our expense. Racks are then stripped, inspected, and categorized. Those found to be in serviceable condition, minor dings allowed, will be refinished with new powder coat in customer's choice of color. Any racks that are not suitable for refurbishment become Topco Inc. property unless other arrangements are made. Return shipping costs are borne by the customer.
2. Repair
This service includes all the features and conditions of refurbishment, except that damaged racks will be repaired at a flat rate per rack to be determined on a case-by-case basis.
3. Remanufacturing
This service includes all the features of Refurbishment and Repair, except that racks will be modified at a flat rate per rack to be determined on a case-by-case basis. A common example of this type of service is the conversion of two crossbar racks to four crossbar racks.
4. Removal
Topco Inc. will be glad to remove and dispose of any unwanted racks at no cost to the customer.
SOLUTION
The key to recycling wine barrel racks depended on finding an effective, convenient, inexpensive and environmentally friendly way to remove rust and old finish material. And now a solution has been found. Topco Inc. is proud to announce the installation of a Pangborn Rotoblast wheel abrader system, which works like a sandblaster, only better. With the Rotoblast equipment, racks may be stripped to shiny bare metal in average of two minutes each or less. This machine is a self-contained factory. Inside a sealed cabinet, racks are stripped by two streams of high strength steel micro-balls, travelling at the rate of 700 lbs./min. by two large wheels at about half the speed of a 45 caliber bullet. The racks rotate on a turntable in front of these streams to expose as much surface as possible. Below the rotating table a material handling system recirculates the media from a trough in the bottom of the blast cabinet to a hopper above the slinger wheels. Finally, there is a sophisticated separation system that removes and captures all unwanted debris and dust. In all, this machine is about 22 ft. tall, 24 ft. wide, 15 ft. deep, and weighs about 61,000 lbs. not including the10,000 lbs. of media which it contains.
WINE RACK REFURBISHING
Topco Inc. is proud to announce our new Pangborn Rotoblast* system, which works like sandblasting, only better! With this equipment it is now possible to refurbish used racks by efficiently stripping them to shiny, slightly roughened clean metal, creating an excellent mechanical bonding surface for new powder coat.
All this, and more, is offered at a very reasonable price and considerable savings compared to replacement.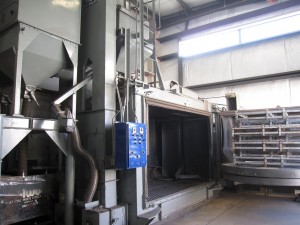 HOW THE PANGBORN WORKS
Our Pangborn* Rotoblast wheel abrader performs much the same task as sandblasting, except, in place of sand, super-hard steel microballs are hurled by a rapidly spinning paddle wheel at about half the speed of a 45 automatic bullet toward the material to be stripped. The entire process is self contained and fully automatic. Not only are the racks efficiently stripped, but surface roughened as well for superior powder coat adhesion.
THREE STEP PROCESS
1. Stripping: Each rack to be refurbished is stripped of rust and old paint, then inspected.
2. Inspection: Racks in good physical condition are recoated. Minor non- structural dings, usually caused by forklift handling, are allowed. A sophisticated ultrasonic device is used to spot check for wall thickness of the steel tube.
3. Refurbishment: Racks passing inspection are powder coated. The finished racks look like new.
Topco, Inc. Manufacture's new and refurbished barrel racks. We can also convert 2 barrel racks to 4 barrel. Seismic solution: TOPCAP. Contact 888.473.2005