Category:
Re-Manufacture
Topco, Inc. would like to offer a solution for barrel racks that were damaged in the recent Napa earthquake.
We want to help you rebuild.
Did you know that you can save money and over all losses by having us repair your damaged barrel racks? This is a much simpler solution than just out right replacing them all brand new.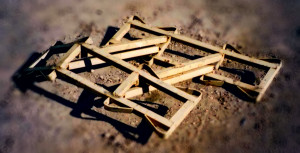 How?
All you have to do is call us up and tell us your story. At our expense, we will come out and pick up all your damaged racks. Once delivered to our manufacturing plant we will assess what can be salvaged. We blast the racks, assess the damage, deconstruct for useable materials, then reassemble with a new powder coat finish if not stainless steel.
This process saves you not only you money, but additional resources from being unnecessarily used.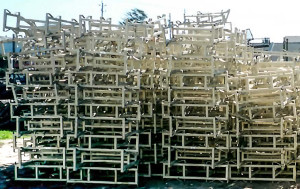 Re-Manufacturing services include:
– Changing single cross bar racks into double cross bar racks.
– Converting 2 barrel racks into four barrel racks (4 barrel racks are known to be more stable during an earthquake than 2 barrel racks).
– Re-powder coat.
Give us a call! 888.473.2005 or Email: TopcoInc@aol.com
We can fix these!
Are you new to the wine making industry and not sure what to look for when it comes to purchasing wine barrel racks for your cellar? If so we would like to share with you a few tips.
•Save on costs and purchase refurbished racks. 
•Be sure you racks have four crossbars for safety.
•Topchock  cradle has better contact with the barrel .
 •Stainless steel for durable finish.
  Our refurbished racks are cleaned, inspected and coated with two coats of powder coating.  They look great and cost about a third less than a new rack.
Single crossbar racks are not recomended, they have a tendency to bend under too much weight, especially if they are on the bottom of a tall stack.
The topchock cradle is a design we developed for two reasons.  First we wanted to have a better contact with the barrel and second to get better coverage of powder coat in that area.
Stainless steel racks offer a durable finish in a winery environment.  The main drawback is the cost.  These racks can cost up to two and a half times more than a new rack.